By Livia Gershon
Bristol Myers Squibb is growing. It's in the process of expanding its Devens facility to handle new, cutting-edge manufacturing, including personalized cell therapy for patients with cancer. The work is so specialized employees need a lot of preparation they can't always get in a typical classroom. So the company has been launching new programs with educational institutions around the region to get workers ready.
In 2020, Bristol Myers Squibb gave the Massachusetts Biotechnology Education Foundation a grant to help it launch a new life sciences apprenticeship program. Since then, the foundation has been working with the company and other life sciences firms operating in the state to bring in new candidates.
Participants study biology, chemistry, and math, as well as softer skills like communication and team management at Northeastern University in Boston. They spend a year as paid workers at the companies, getting on-the-job training. The program puts a particular emphasis on recruiting people of color, women, veterans, and other groups now underrepresented in the industry.
"It's a really interesting program because it provides a win-win situation for the students as well as the employers," said Odile Smith, vice president and head of the Devens manufacturing site for Bristol Myers Squibb.
In its first year in 2021, the apprenticeship program trained 30 people, with nine of them placed with Bristol Myers Squibb. This year, it's growing to 100 apprenticeships. Participants can train either as bioprocessing technicians, running bioreactors to fabricate complex pharmaceuticals, or as clinical trial associates, coordinating testing of new medicines with doctors and laboratories.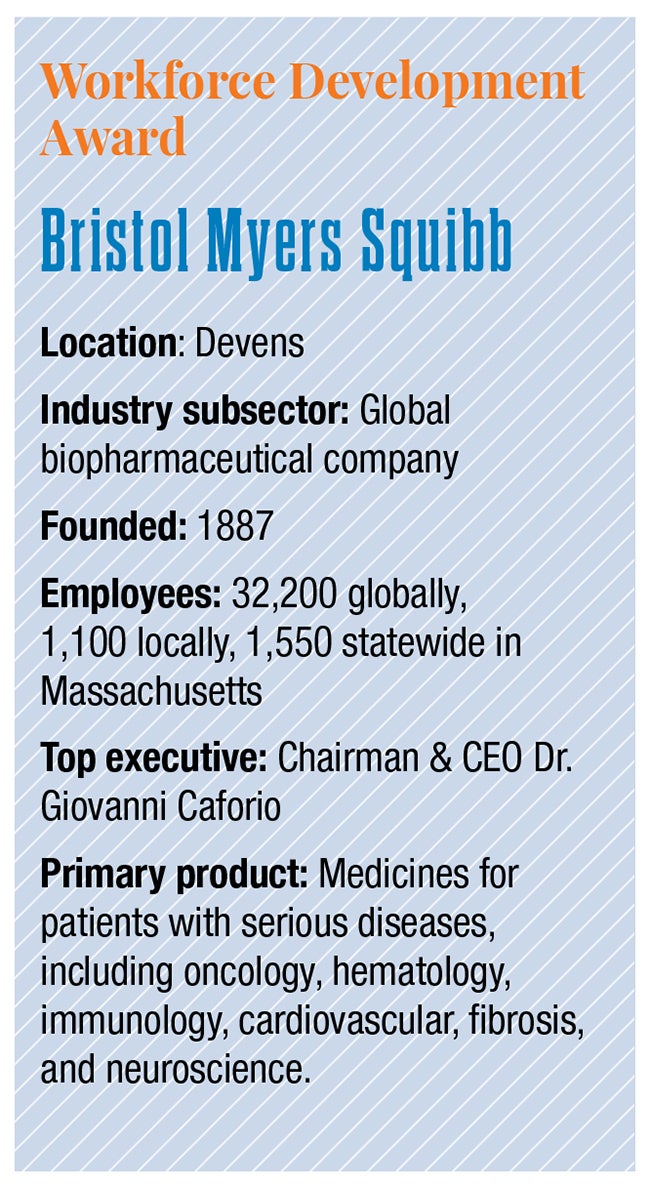 At the same time, the company has created a learn-and-earn program in partnership with Middlesex Community College in Lowell. The two-year associate degree program lets students start working at the company while they earn their degree on a flexible schedule.
"Last year we hired over 300 people, so of course it's really putting efforts where we see needs," Smith said.
The focus on scientific education is particularly important for Bristol Myers Squibb because of the advanced nature of its manufacturing. Its expanding cell therapy manufacturing work involves using a patient's own T cells to engineer therapeutic cells, which are then infused back into the same person.
The company also works to help its current bioprocessing technicians gain an advanced understanding of its science. It partnered with Worcester Polytechnic Institute to develop courses.
2022 Manufacturing Excellence Awards